Overview
Our Vario Combo gives you the best of both practices, direct downlighting for highlighting product and linear lighting for general ambient lighting. Perfect for any retail application.
Aesthetically pleasing design, no visible screws.
One-piece extruded aluminum housing with integral drivers. Separate your linear lighting from your downlighting.
Direct lighting using linear only, or downlight only is available as well.
Continuous row mounting is standard. L's, T's, X's are welded, sanded, and powder coated for a clean seamless appearance.
Can also be specified as surface ceiling or trimless in sheetrock.
Various patterns available - consult factory
Standard color white, black. Custom wood, anodizing, RAL/Pantone# are avaiable too.
Made in the USA.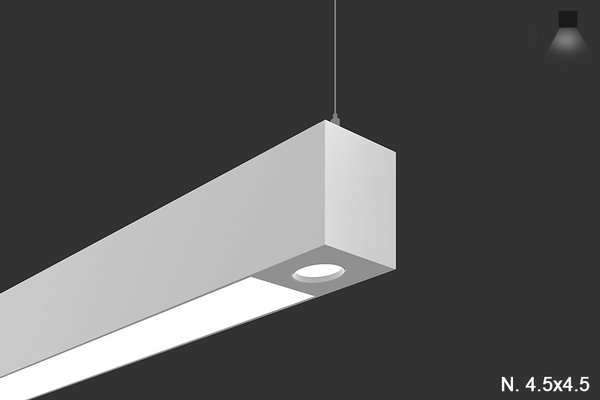 Construction & Mounting
HOUSING

Extruded aluminum housings are supplied in nominal lengths of 4 ft., 6 ft., 8 ft. Fixtures may be continuously rowed (contact factory for details). Internal components are constructed from min. 20-gauge die-formed steel. Easy access to driver and LED boards. We can supply many variations of liner, linear with downlights or downlight only. End caps are extruded aluminum. Custom sizes are available.
REFLECTOR

Integral powder-coated LED housing with excessive reflectivity for increased lumen output on linear. Downlight has a specular open reflector.
FINISH

Standard powder-coated colors are white, black and silver. Custom processed wood finishes, aluminum anodized finishes, chrome/gold plating, and custom finishes are available as well. We also accept RAL and Pantone numbers for powder-coating color choices.
OPTICS

Linear snap-in lens is designed for high LED output and to hide LED image. Downlight available in various beam spreads.
MOUNTING

Cable mounting with various size canopies and power feeds. If not selected in options, canopy color and cord will be white. Cable uses gripper style locking for field adjustments. Canopy mounts to standard J-box. Can also be stem mounted. See the options for more information.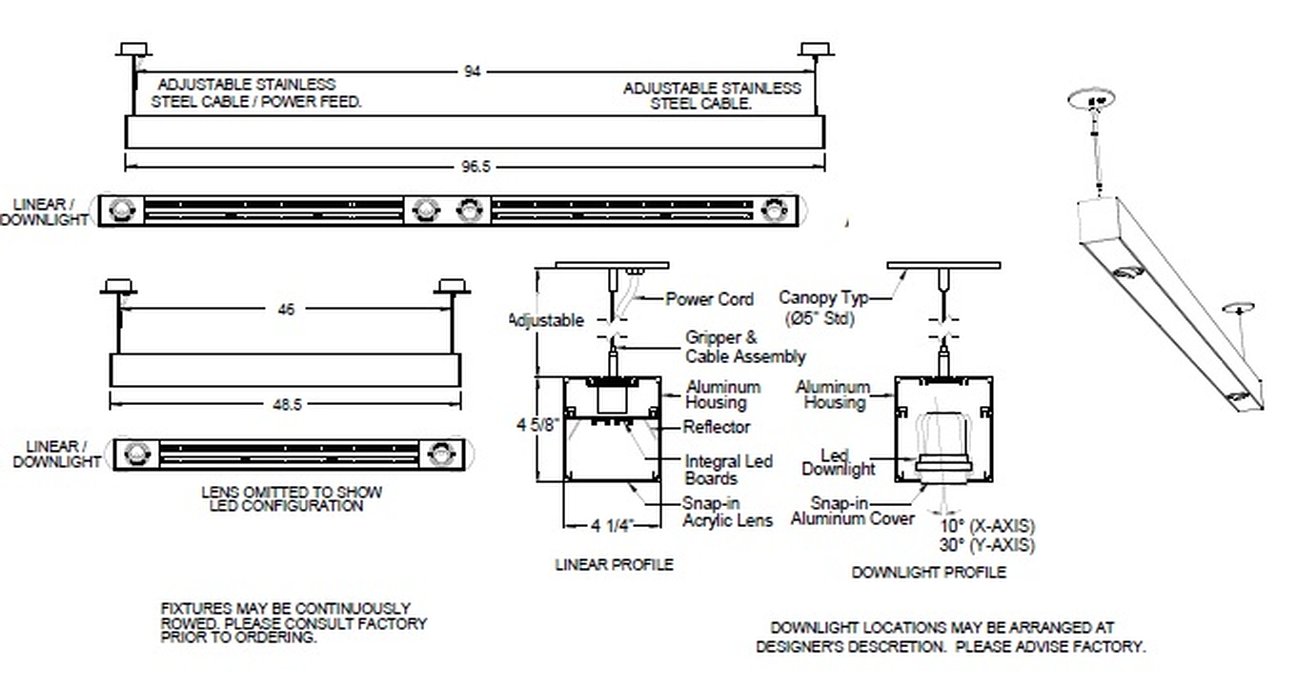 LED Performance
| LED Output | CCT Color Temp | Watts | Lumens | Lumens per Watt | CCT Multiplier |
| --- | --- | --- | --- | --- | --- |
| Low | 3000 | 4.28 WPF | 350 LPF | 81 | 2700=.95 |
| Medium | 3000 | 6.23 WPF | 500LPF | 80 | 3000=1 |
| High | 3000 | 9.38WPF | 750 LPF | 80 | 3500=1.01 |
| Very High | 3000 | 12.63 WPF | 1000 LPF | 80 | 4000= 1.15 |
Certifications & Warranties